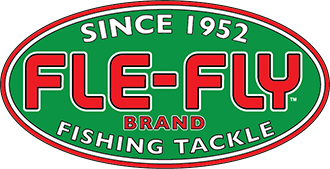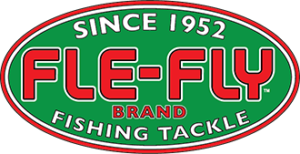 Fle-Fly fishing tackle brand started in 1952 by Oklahoma native Fred Storer. Fred had a vision of a chenille wrapped jig that swam like a minnow. Following his dream Fred created the original "Nikki Spin" jigs. Quickly the new jigs were a huge hit with Crappie and White bass anglers all over Texas and Oklahoma! Fred's original head design was created in 1952 and it was so innovative thats its still sold in the brand today. Many anglers now credit him with the first true "swimbait" head on any fishing lure.
Since Fred there have been 2 other owners of the Fle-Fly brand. First, Dwight Russell owned the brand from the early 80's to May 2012. Dwight was also an innovator and contributed time tested lure designs like The Bendable Minnow Jigging Spoon and Classic Slab. Both are still manufactured and sold by the thousands today. During Dwight's ownership he sold jigs and spoons to anglers all over Texas, Oklahoma and the midwest. Dwight introduced the Jigging spoons to many Walleye anglers in the upper Midwest where they are still used to boat livewells full of fish in the post spawn summer months.
The 3rd owner and longtime fan of the Bendable Minnow Jeff Williams Owner of Outdoor BrandZ bought Fle-Fly in May 2012 and immediately started reviving the nostalgic old fishing brand. Since Jeff and Patricia acquired the brand they've added many new and exciting products like Go Go Minnows, Crappie Kickers, Big Eye Jig Heads and Bubblegum Lure Flavor. Now Fle-Fly is sold nationally by 100's of independent tackle dealers, Cabelas, Bass Pro, Walmart, Amazon and many other online outlets.
Over the years Fle-Fly had sold millions upon millions of jigs, spoons and soft plastic lures in the southern plains and upper midwest. Now with the national selling platform from Outdoor BrandZ the Fle-Fly brand is getting noticed by thousands of new Anglers all around the country. They are finding Fle-Fly offers some of America's funnest fishing lures.